MANAGEMENT
In August 2018, Steinhoff Asia Pacific Group Holdings Pty Limited was renamed Greenlit Brands Pty Limited. Greenlit Brands is essentially the combination of two former groups: Steinhoff Asia Pacific and Fantastic Holdings Limited. These groups came together as one group from October 2017.
GREENLIT BRANDS EXECUTIVE TEAM
Michael Ford
Executive Chairman and Group Chief Executive Officer
Michael Ford was appointed to Greenlit Brands as Chief Executive Officer in August 2017 and in April 2019 he was appointed Executive Chairman and Chief Executive Officer. He is also a member of the Board Audit and Risk Committee and the Board Remuneration Committee.
Michael has led Greenlit Brands through a significant period of transformation. Under his leadership, Greenlit Brands has undertaken a strategic consolidation involving the divestment of the Group's General Merchandise division (incorporating a number of separate brands), while also enabling a vertical integration strategy of the Group's iconic retail brands (freedom, Fantastic Furniture, Plush, Snooze and OMF) and its manufacturing and logistics businesses (FutureSleep, Unitrans and G&G).
As Executive Chairman and Group CEO, Michael brings over 30 years of deep and broad leadership experience in the retail sector, having held 'C' suite roles with leading Australian and New Zealand retail groups including Country Road, Esprit and Jag Clothing and The Good Guys. In particular, Michael led the Good Guys business into a new age of prosperity and growth, doubling the company's annual turnover and achieving the number one market share and preference to shop for large and small appliances in Australia.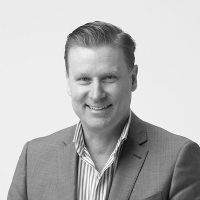 Aaron Canning
Group Chief Operating Officer
Aaron Canning was appointed to Greenlit Brands as Chief Financial Officer in March 2020 and following a number of significant strategic initiatives, was appointed as Chief Operating Officer of Greenlit Brands in December 2020.
Aaron brings to Greenlit Brands a wealth of corporate and financial experience from a variety of previous executive management and financial leadership positions in ASX listed and multinational organisations. He has lived and worked across Asia as well as the UK, USA, New Zealand and Australia. Prior to joining Greenlit Brands he held the position of Group CFO of Blackmores Ltd. His career before this spanned groups including Goodman Fielder, Westfield and Diageo Plc. At Goodman Fielder he held several executive leadership positions including Managing Director Grocery Category and Managing Director Asia Pacific.
Aaron is a Non-Executive Director of Gowrie NSW, a non-profit-organisation founded in 1940, providing diverse education and care, family support and professional development services to the early and middle childhood sector across NSW and ACT. He is the Chair of the Audit, Risk and Investment Committee and was named CEO Magazine's 2016 CFO of the Year (Runner-up).
Aaron has a Bachelor of Commerce in Marketing and Management and a postgraduate 1st class Honours degree from the University of Otago, New Zealand. He is a Fellow of the Association of Chartered Certified Accountants, Member of the Chartered Accountants Association of Australia and New Zealand and Graduate of the Australian Institute of Company Directors.
Michael Cooper
Chief Legal Officer
Michael Cooper is Greenlit Brands' Chief Legal Officer. He first joined Greenlit Brands in 2018 as General Counsel – Regulatory and Compliance, and was subsequently promoted to Chief Legal Officer.
Michael brings to the Group extensive experience in in-house legal and regulatory roles and also from private practice.
Prior to joining Greenlit Brands, Michael held senior positions at Dentons Australia.
Michael holds a Bachelor of Law (first class honours) from the University of Technology, Sydney and a Bachelor of Commerce from Sydney University.
Lara Nercessian
Group General Manager, Human Resources
Lara Nercessian joined Greenlit Brands in 2018 as Group Human Resources Business Partner and was subsequently promoted to Group General Manager – Human Resources in 2020.
Lara has over 11 years' experience in Human Resources and in that time, has delivered policies, procedures and initiatives for a number of organisations that drive workplace efficiency for industry leaders. Some of these organisations include Next Athleisure Group (Topshop/Topman Australia, Glue Store, JD Sports, Trend Imports), sass & bide and Napoleon Perdis Cosmetics.
Lara's track record demonstrates continued success in managing comprehensive operational enhancement projects in fast-paced, international markets, leveraging world-class people practices to generate consistency and commercial outcomes on a global scale.
Lara holds a Postgraduate Diploma in Psychology, and also holds a Bachelor of Arts majoring in Psychology from Macquarie University.
In 2018, Lara was appointed as an accredited Industry Mentor for RMIT University, where she provides students with valuable career insights and advice to shape and support their career journeys.
Kieron Ritchard
Chief Executive Officer, Fantastic Furniture
Kieron joined Greenlit Brands and was appointed as Chief Executive Officer of flagship retail brand, Fantastic Furniture in 2018.
As CEO at Fantastic Furniture, Kieron leads a talented team focused on delivering customer centred omni channel business growth.
Kieron's early career included specialist advisory work in the hotel industry as well as working internationally on corporate finance deals, real estate development, brand development and tourism advisory. Relocating to Asia in 2002, Kieron lead the regional strategy and business development functions for global hotel groups, achieving significant pan-Asian network growth at Le Meridien Hotels and Resorts and launching the Holiday Inn Express brand in China at IHG, securing the first international hotel franchise license ever issued in that market.
Since returning to Australia in 2008, Kieron has led divisional portfolios at IHG, KFC, Transport for NSW and Compass Group.
Kieron holds a bachelor's degree in Commerce (Accounting), an MBA (AGSM) and is a Graduate of Australian Institute of Company Directors. He serves as Chairperson of Dignity, a highly respected and fast-growing homeless services charity.
Blaine Callard
Chief Executive Officer, Freedom
24 years at Harvey Norman Group
Seasoned Retailer – Interiors & Technology
Restored Irish HN Business to profitability
Two other major HN Turnarounds
Extensive International Experience
Expertise in Brand & Marketing
"People-centric" Leadership Style
Brick-&-Mortar Advocate
Blaine Callard is an accomplished retail executive and Chief Executive Officer of freedom, one of Greenlit Brands' flagship retail businesses. He has held this position since 2018 and in this role is responsible for all aspects of freedom's strategy, operations, performance, and growth.
Blaine has over 20 years' experience across a range of operational and strategic roles at the Harvey Norman Group, including as CEO of Harvey Norman (Ireland). In this role, he was responsible for getting that business to return to profitability while strengthening its gross operating margins and reinvigorating its brand in Ireland. Blaine is a people-oriented CEO, whose experience, knowledge and leadership capabilities are crucial in evolving the freedom brand and growth in key markets across new retail platforms in Australia and New Zealand.
Zoe Hertelendi
Managing Director – Freedom New Zealand
Zoe is an experienced, operational and entrepreneurial retail professional with a strong track record of country and area leadership in retail. She brings with her very strong international experience creating, developing and growing a tier one global retail fashion brand (Ted Baker). She held a number of senior positions at Ted Baker and established new store networks in Ireland, Northern Ireland, Germany, France and Singapore.
 An entrepreneur with a passion for people and planet, Zoe believes in building organisations that can develop ideas, solutions and create actions for future success. Following these principles Zoe has previously founded her own businesses Platform 61 and Edamame, supporting businesses on their sustainability journeys, through sharing her experience, knowledge, skills and insight in that area. 
As an firm believer in making positive change possible, she is an active member of business community, and she sits on the Board for Dublin Town, representing 2500 businesses and CSR & Sustainability Committee for Digital Business Ireland, not-for-profit representative body that counts over 8,000 businesses as part of its community spanning across a range of sectors. 
 Zoe has a deep desire to elicit sustainable change within business. It is her belief that people are at the heart of great business, and has an energy that leads with conviction, all key to the successful turnaround of Freedom.